You love being a mom but get overwhelmed, lost and resentful by all the parenting responsibilities. Listen as life coach, teacher and parent educator, Torie Henderson, answers common parenting dilemmas from hard working Supermoms. Are you exhausted from working hard all day but still feel like you haven't accomplished anything? Do you want to feel calm, energized and in control? Then this podcast is for you.
Episodes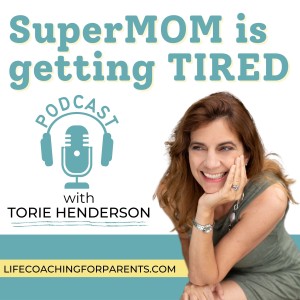 Tuesday Jun 06, 2023
Tuesday Jun 06, 2023
Vacation strategies for traveling with anxious, inflexible and neurodiverse children
Episode #151
Have you ever been so excited for a getaway with the kids only to come back more exhausted than before you left?
Similarly, you plan a relaxing vacation for your family but after the THIRD  meltdown of the day you yell: "This is supposed to be FUN!" or "Do you know how much this is costing?"
Yeah, me neither :)
It's easy to get caught up in the excitement of a vacation, and develop short term memory loss about the challenges of traveling with children.
Let's take a minute to remember: Travel rarely provides a vacation from parenting. In fact, it can often require more hands on deck to deal with constant transitions and lack of routines and comfort.
It's best to set your expectation that vacations are TRIPS, not necessarily a vacation for YOU.  Aligning your expectations with the reality that travel is just doing the work of parenting from a different location can make your life easier.
After you set yourself up for appropriate expectation, you can focus your attention on preparing the kids for a successful vacation.
There is a lot parents can do to set them up for success!
When you are at home, it's easy to forget how much of their ability to thrive depends on predictable routines and familiarity. Whether your child is neurotypical or neurodiverse, sensory seeking or sensory avoidant, today's podcast is designed to set your family up for a successful summer vacation.
Today we talk to Dawn Barclay, author of Traveling Different: Vacation Strategies for Parents of the Anxious, the Inflexible, and the Neurodiverse .
We'll talk about how to choose a trip suited to their temperament, how prepare them before it's time to go, and different resources available to help kids travel successfully. Did you know that airlines, cruises, and amusement parks have resources in place to help neurodiverse kids enjoy family vacations? Neither did I!
Dawn M. Barclay is an award-winning author who has spent a career working in different aspects of the travel industry.
After spending ten years working in sales and marketing, she branched out into travel trade reporting with positions at Travel Agent Magazine, Travel Life, Travel Market Report, and Insider Travel Report.
She is a mother of two and resides in New York's scenic Hudson Valley.
A member of the Society of American Travel Writers and the Family Travel Association, she also writes fiction as D.M. Barr.
Website: http://www.travelingdifferent.com
Twitter: www.twitter.com/@travelingdiff
Facebook: www.facebook.com/travelingdifferent
Instagram: https://www.instagram.com/traveling_different/